Recognizing students with truly special talent
The Pokémon Scholarships
The Pokémon Scholarships were established to support students destined to forge a new era through the powers of creative art and design. Since the program was launched in 2018, scholarships have been awarded to six recipients attending the Royal College of Art (RCA), a postgraduate art school in London. Since 2014, for six consecutive years the RCA has been named the world's leading university of art and design in the QS World University Rankings issued by Quacquarelli Symonds. Establishment of The Pokémon Scholarship program, and its subsequent operation, have been carried out in cooperation with Kinya Tagawa, a Partner of the Takram design innovation studio. Mr. Tagawa is a graduate and Honorary Fellow of the RCA.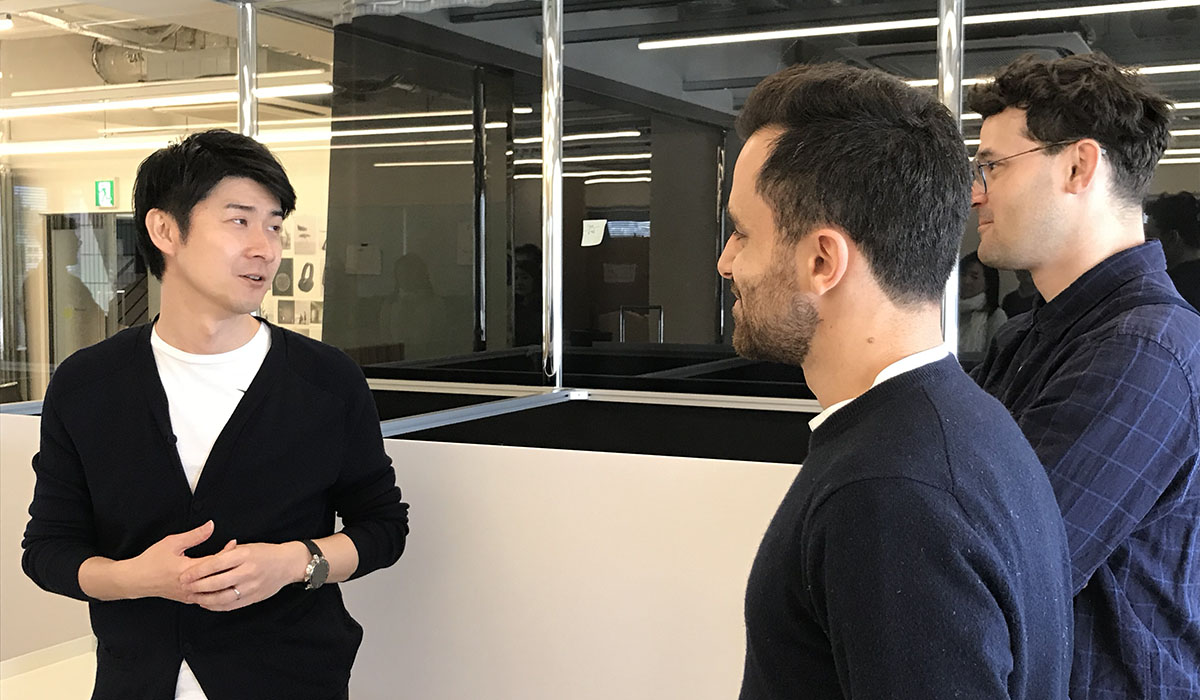 Kinya Tagawa, Partner of Takram and the 2018 scholars
Tsunekazu Ishihara, CEO of The Pokémon Company, describes his aspirations for the scholarship program and its recipients in the following way: "Up until now, Pokémon has evolved its brand through incorporation of new technologies and collaborations in new domains: for example, new communication and geolocation technologies, and collaborations in fashion and art. It's a source of joy to be able to support students who have the potential, with assistance from our scholarships, to pioneer new industries and new areas of expression as yet undefined. I hope that through this scholarship program, students of the RCA and Pokémon will engage in ever-deeper exchanges and mutually stimulate our creative thinking."
In response to these sentiments, the Pokémon Scholarship recipients to date have all demonstrated outstanding results at the end of their award term. We introduce two of them here.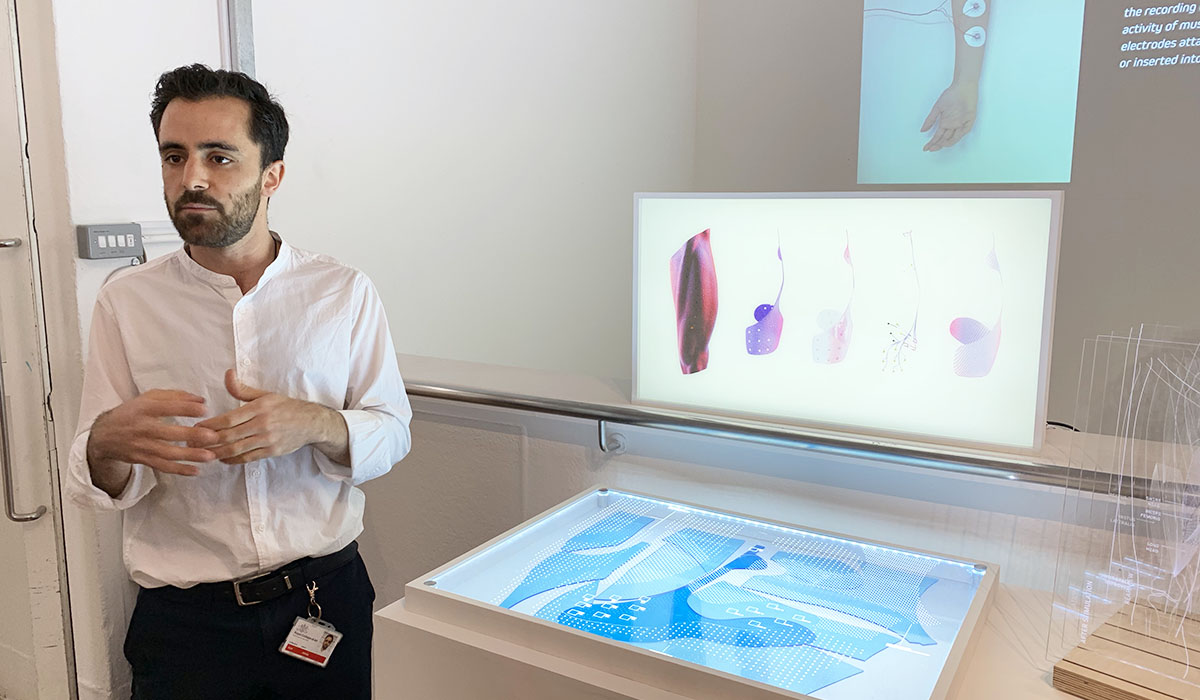 Amir Afshar (MA Innovation Design Engineering)
Amir Afshar proposed the "Assistive Mobility Bionic Layer" (AMBL), a system that, using sensors embedded into comfortable clothing, assists the wearer's walking ability through muscle sensing and actuation. Amir noted how conventional mobility aids such as crutches had not evolved significantly over many years. With his AMBL, as body movements are detected, electrical signals cause the muscles to contract, facilitating mobility. His research results indicate that with application of the AMBL system, proactive movement of an injured area, rather than excessively supporting it, helps achieve its early recovery.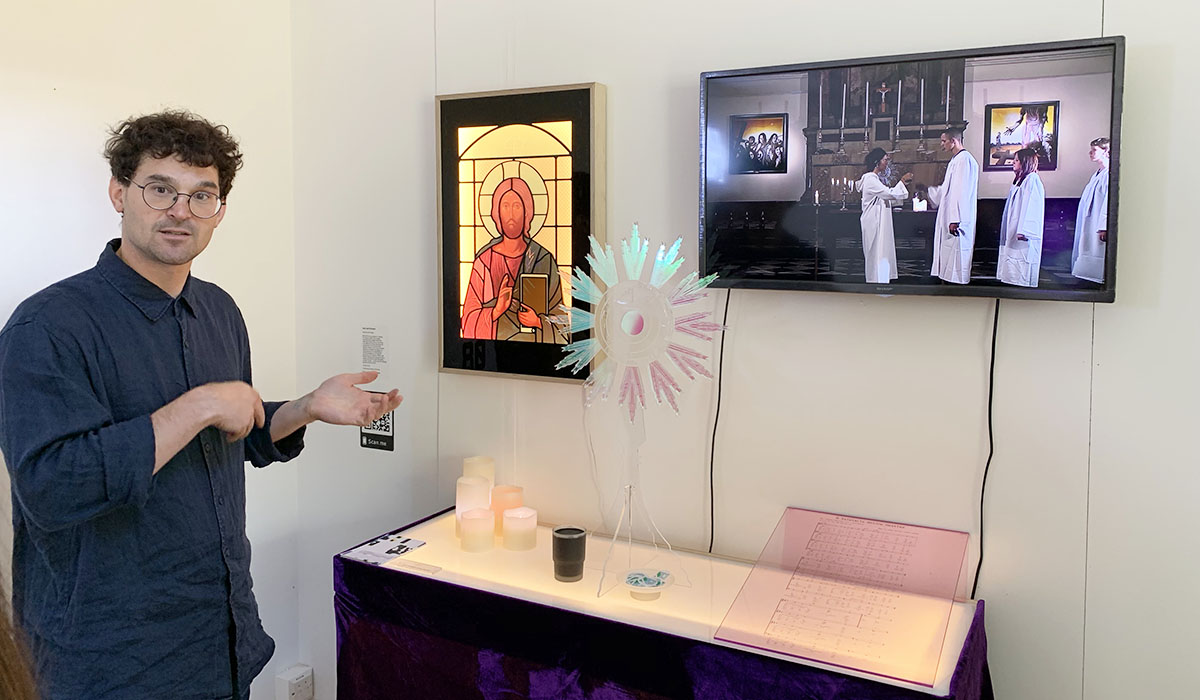 Jesse Cahn-Thompson (MA Information Experience Design)
Jesse Cahn-Thompson created an installation called "Heaven to the Cloud." This was a project in which he used an IBM Watson to examine algorithmic integrity and agency through online behavior as interpreted by artificial intelligence. The IBM Watson, which is used for creating target advertising or curating contents, analyzed the language of social media accounts to create personality profiles. Though his project, Jesse created a profile of Jesus Christ, and Christ's personality was applied to writing lyrics of a gospel song which was performed in a church setting. The installation featured a video of this unique undertaking.
Amir and Jesse were recipients of The Pokémon Scholarship during its inaugural year, and in subsequent years the program has continued to select unique and highly talented scholars. Among them are Marie Isacsson, an up-and-coming fashion designer whose works have been featured in international editions of "VOGUE," and Ye Han, who completed a bachelor degree in Material Science and Nanoengineering and studied in the Intelligent Mobility program at the RCA. Recipients of The Pokémon Scholarships all share in being individuals of truly unique talent who are members of the generation that grew up playing Pokémon games and watching Pokémon anime. Our hope is that through the creative talents of people like them, Pokémon will continue to live and thrive in their hearts long into the future. We cherish our wonderful encounters with young people like Amir, Jesse, Marie and Ye, and we look forward to meeting their talented successors in the years ahead.